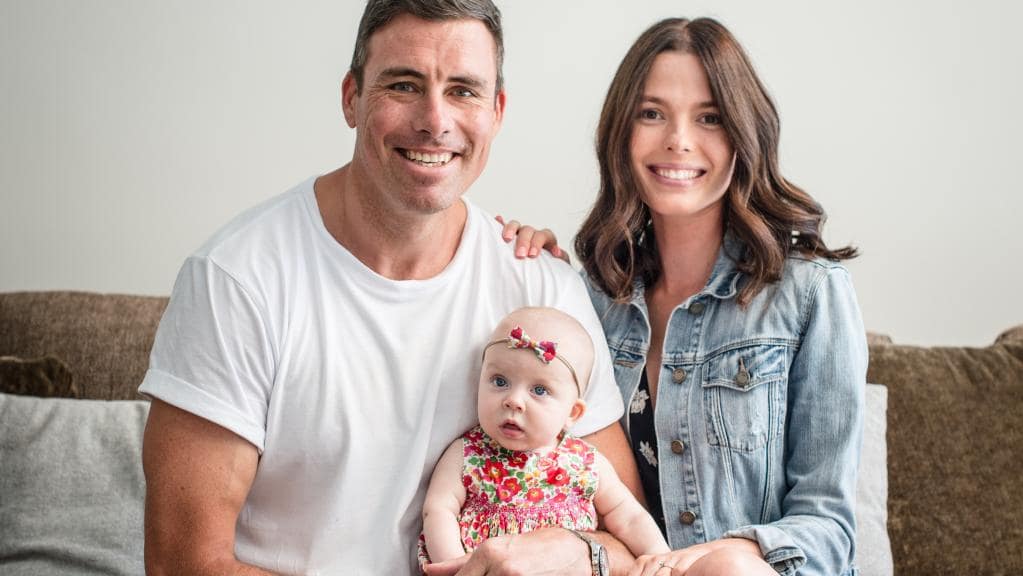 His two-bedroom home may be more crowded since his daughter was born, but Channel 7's Matthew Richardson wouldn't have it any other way.
There are loud noises coming from Matthew Richardson's home — and surprisingly, it's not the Tigers theme song. The Richmond AFL champion opens the door to his Elwood abode, proudly cuddling his cooing baby daughter, Zoey.
"Aren't you a little show pony," he says, smiling at the six-month-old. Behind him, his fiancee Gen Holliday laughs.
Matthew moved into the California bungalow in the leafy suburb about 11 years ago, departing his beloved Fitzroy in search of a quieter neighbourhood.
"I lived right on Brunswick St and I loved it, but I was still playing footy and needed to get a good night's sleep," he says. "I was always coming over to Elwood because I had friends who lived here. Richmond CEO Brendon Gale lived on this street, and former Tigers players Wayne Campbell and Nick Daffy had homes close by."
Gen moved in four years later, and together they have done some minor renovations including whitewashing the floors, adding a walk-in robe and updating the kitchen. They also welcomed Kev, their cat and "neighbourhood menace", named after Richmond footballing greats Kevin Bartlett and Kevin Sheedy.
While the two-bedroom plus office layout has been the ideal size for two, they admit it has started to feel a little crowded since Zoey was born in September.
"It's insane how much stuff one little person needs," Gen says. "We're tossing up whether or not to move, or extend, depending on how we decide to expand our family."
They're collecting pieces as they go but, aside from Zoey's room, they haven't started the furniture fit-out since renovating. The nursery is a girly mix of pink and grey hues, tied together with pops of blonde timber and copper. As well as her cot, a big girl's bed awaits in the corner. Texture and interest is added with chunky knitted throws, velvet cushions and warm lighting.
"We knew we were having a girl, so I went quite feminine with this room," Gen says, pointing out a hand-drawn framed etching of a Richmond teddy bear, a gift from the Richardson family. "Depending on her personality, we'll start taking away or adding certain pieces as she grows."
A hanging map of the world takes pride of place on the wall, and is a fitting addition for the well- travelled baby. "She's already been on a plane twice," Gen says, referring to their trips to Port Douglas and most recently to Bali in January. "We're taking her to Europe at the end of the year, so let's see how that goes with a one-year-old."
Matthew often works from their Elwood base, but his office also doubles as a place for his favourite pastimes. The walls are lined with bookshelves filled with his top reads, photographs and an impressive collection of CDs, including adored bands You Am I and Pearl Jam. "I love my music, and there are so many memories in every one of those albums," he says.
There isn't any Tigers memorabilia to be found inside the house, with Matthew saying he has "never been one to have a shrine to myself".
The only hint of a footballing life is a treasured framed photograph of Matthew's father, Alan "Bull" Richardson. "My Dad passed away three years ago and my sister, Tracey, gave me this as a Christmas present; it's really special to me," he says.
At the rear of the home, the open kitchen and dining area is light and airy, with statement hints of luxe black. There's an open fireplace next to the dining table, black pendant lighting and a chic matte black sink and tap.
The area looks over the open living room — Matthew's favourite room in the house. With large windows and high ceilings, the natural light-lit space is the perfect place to curl up and read, or watch TV.
"The couch is as old as the hills, but it's the comfiest spot to take it all in," he says.
And it has the best view in the house. Outside, there's a decked barbecue area, and pool — where you'll often find the trio splashing around during warmer days.
Gen has also incorporated stylish touches throughout. Candles burn, indoor plants thrive (inset), the scent of floral bouquets fill the air and precious artworks show off the couple's favourite travel destinations, including the New York skyscape hanging in the living room. "We're not flashy or showy people," Gen says. "The home isn't quite finished yet … but we're happy for it to evolve as we go."
Matthew and Gen love living in Elwood because it's family friendly and has a great sense of community.
"We can walk or ride everywhere, and that's important to me," Matthew says, listing the Village Belle Hotel, Cafe De Cuba and Dandelion as some of their favourite culinary stops. "And we know people around here, so we stop and chat."
As he plays with Zoey on his knee, Matthew flashes a grin strikingly similar to the one he's been sporting since the Tigers won the AFL Grand Final last September. He admits he's still pinching himself.
"There are moments when I'm driving down the road or walking around here in Elwood and it pops into my mind that Richmond won the premiership," he says proudly. "That did happen. It still feels surreal."
He says one of the best parts of the win is being able to share it with so many other fans. "It's been fantastic bumping into Richmond supporters over the past few months; everyone has a great tale about them winning the flag," he says.
With the 2018 season about to kick off, Matthew is looking forward to continuing his commentary roles with Channel 7 for Friday and Saturday night games, and on 3AW radio on Sunday afternoons.
"It's pretty hectic during the season — there are no weekends free — but it's also great working in an industry I love," he says.
As for the Tigers, does he think they can claim the top spot again this year?
"I think it'll be harder, much like how the Western Bulldogs found it last year," he says. "The competition is always evolving. But all our good players are in the right age demographic, and we have good young players coming through. If we stay focused, I can't see why we couldn't get up there again."
MATTHEW'S FAVES:
Framed photo of father: These are great old photos of Dad (Alan "Bull" Richardson) training at Punt Rd. It's nice to look up from my work and see him looking t and healthy. He's in his heyday.
Wine bottle: I was lucky enough to go backstage for a drink with Pearl Jam after they played at Etihad Stadium in 2010. Eddie Vedder gave me a bottle of wine from their rider, and wrote on it, 'Cheers to time off ' because I'd just finished playing football. Eddie Vedder is my vintage, Seattle grunge is my kind of music, so it means so much to me.
Op-shop t-shirt collection: I have about 50 of them, and I can't throw them out. I don't wear them anymore — I'm too old to be walking around in hipster T-shirts.They're from when I lived in Fitzroy and was trying to be part of the crowd. Ah, the phases you go through.
Zoey's world map: I wanted Zoey to have this in her room, because I always had an old atlas as a kid and wondered if I'd ever go to the places in there. I've since been lucky enough to go to quite a few places, and still have plenty to go. Highlights so far include our South American trip with stops at Machu Picchu, in Peru, and Brazil and Argentina.
New York skyscape: I love NewYork.I went on my first trip with the Richmond guys, and have been back heaps since. I was always telling my mum she should go, and two years ago I sent her over to experience it for herself. She loved it as much as me.