While kicking goals in her career, Rebecca Maddern is also loving the process of making her house a home.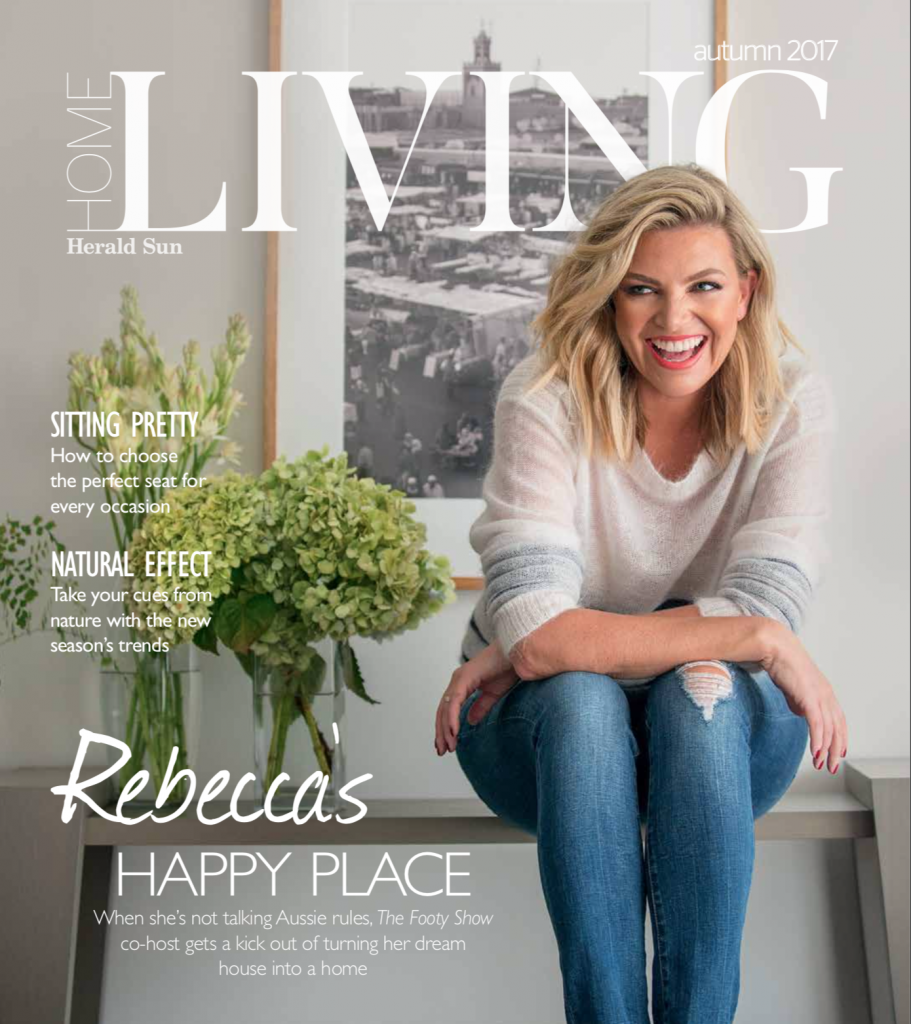 Rebecca Maddern opens the door to her inner-city Melbourne home with her trademark megawatt smile. Bruno Mars plays in the background as she ushers her visitors inside, and it's hard not to feel immediately at ease in the abode The Footy Show co-host shares with cameraman husband Trent Miller.
The pair, who married in 2014, bought the delightful property prior to auction seven years ago, enabling Rebecca to finally fulfil her dream of owning a Victorian-era home.
Stepping off the wide entranceway, lined with framed photos from the couple's overseas travels, the first room she points out is the study. It's a place she's been enjoying spending more time in since taking on the Channel 9 gig last year.
"I've been at home more in the past 12 months than the last seven years," says Rebecca, who will also host the first season of Australian Ninja Warrior, scheduled to screen later this year. "I was living out of a suitcase and now I'm really loving being at home and being able to stay up past 9pm."
The house, which is more than 100 years old, mixes charm from its era with the contemporary facelift the pair gave it when they moved in. They darkened the hardwood floors, painted throughout, put in bi-fold doors that open out on to the sunny courtyard and ripped up the garden, replacing roses with creeping vines and greenery.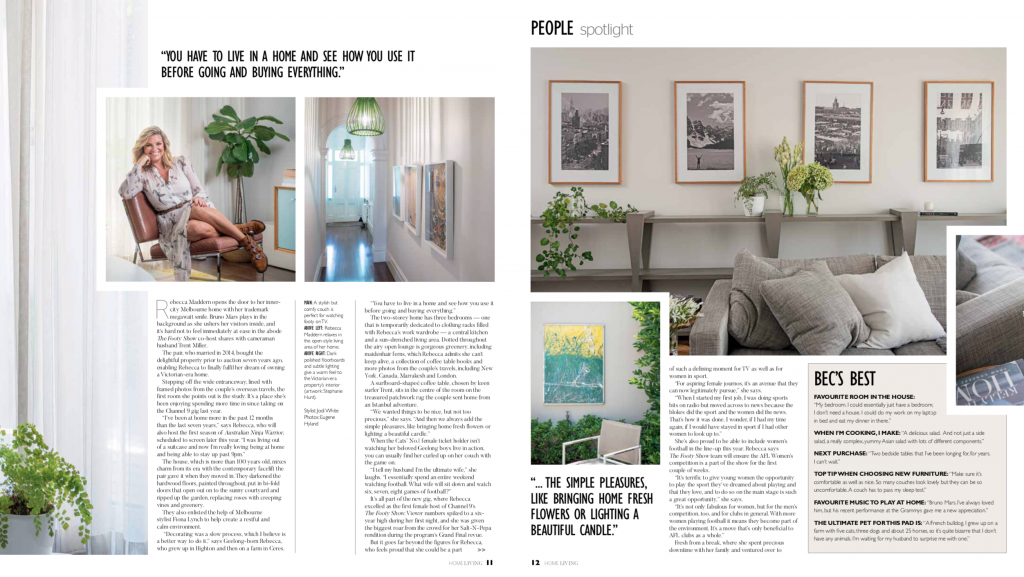 They also enlisted the help of Melbourne stylist Fiona Lynch to help create a restful and calm environment.
"Decorating was a slow process, which I believe is a better way to do it," says Geelong-born Rebecca, who grew up in Highton and then on a farm in Ceres. "You have to live in a home and see how you use it before going and buying everything."
The two-storey home has three bedrooms — one that is temporarily dedicated to clothing racks filled with Rebecca's work wardrobe — a central kitchen and a sun-drenched living area. Dotted throughout the airy open lounge is gorgeous greenery, including maidenhair ferns, which Rebecca admits she can't keep alive, a collection of coffee table books and more photos from the couple's travels, including New York, Canada, Marrakesh and London.
A surfboard-shaped coffee table, chosen by keen surfer Trent, sits in the centre of the room on the treasured patchwork rug the couple sent home from an Istanbul adventure.
"We wanted things to be nice, but not too precious," she says. "And then we always add the simple pleasures, like bringing home fresh flowers or lighting a beautiful candle."
When the Cats' No.1 female ticket holder isn't watching her beloved Geelong boys live in action, you can usually find her curled up on her couch with the game on.
"I tell my husband I'm the ultimate wife," she laughs. "I essentially spend an entire weekend watching football. What wife will sit down and watch six, seven, eight games of football?"
It's all part of the new gig, where Rebecca excelled as the first female host of Channel 9's The Footy Show. Viewer numbers spiked to a six-year high during her first night, and she was given the biggest roar from the crowd for her Salt-N-Pepa rendition during the program's Grand Final revue.
But it goes far beyond the figures for Rebecca, who feels proud that she could be a part of such a defining moment for TV as well as for women in sport.
"For aspiring female journos, it's an avenue that they can now legitimately pursue," she says. "When I started my first job, I was doing sports bits on radio but moved across to news because the blokes did the sport and the women did the news. That's how it was done. I wonder, if I had my time again, if I would have stayed in sport if I had other women to look up to."
She's also proud to be able to include women's football in the line-up this year. Rebecca says The Footy Show team will ensure the AFL Women's competition is a part of the show for the first couple of weeks.
"It's terrific to give young women the opportunity to play the sport they've dreamed about playing and that they love, and to do so on the main stage is such a great opportunity," she says. "It's not only fabulous for women, but for the men's competition, too, and for clubs in general. With more women playing football it means they become part of the environment. It's a move that's only beneficial to AFL clubs as a whole."
Fresh from a break, where she spent precious downtime with her family and ventured over to California with Trent for her mother's birthday, she admits she can't wait to get back to work.
"I'm desperate to start back," she says. "I've been annoying the executive producers with daily emails about what we should change, or keep, and new ideas for new segments."
It's a different feeling, going into the role in the second year, she says.
"It's different to every other show I've worked on," the former Channel 7 reporter and Sunrise presenter says. "For one, because the people I work with have been on the show for so long and also because there's so much going on. It's organised chaos and you're the driver. It's a hard position for anyone, but especially in the first year. I'm going into this year feeling a lot more comfortable."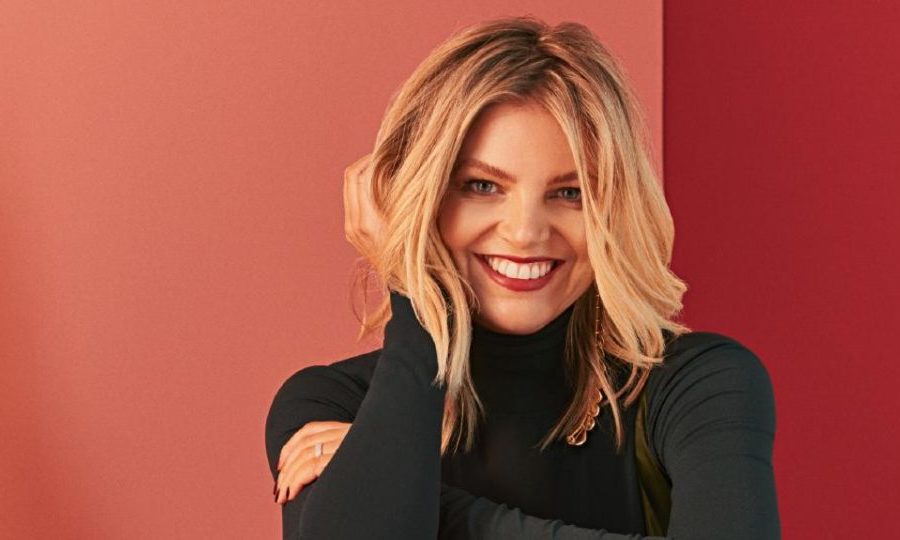 BEC'S BEST
Favourite room in the house: "My bedroom. I could essentially just have a bedroom; I don't need a house. I could do my work on my laptop in bed and eat my dinner in there."
When I'm cooking, I make: "A delicious salad. And not just a side salad, a really complex, yummy Asian salad with lots of different components."
Next purchase: "Two bedside tables that I've been longing for, for years. I can't wait."
Top tip when choosing new furniture: "Make sure it's comfortable as well as nice. So many couches look lovely but they can be so uncomfortable. A couch has to pass my sleep test."
Favourite music to play at home: "Bruno Mars. I've always loved him, but his recent performance at the Grammys gave me a new appreciation."
The ultimate pet for this pad is: "A French bulldog. I grew up on a farm with five cats, three dogs and about 25 horses, so it's quite bizarre that I don't have any animals. I'm waiting for my husband to surprise me with one."